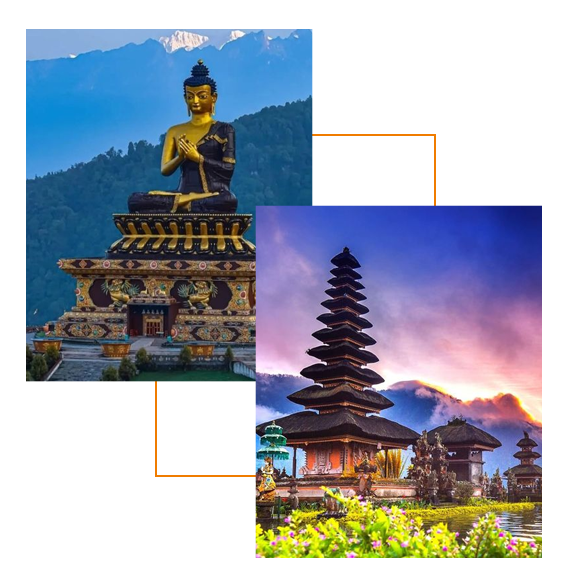 Udaipur Taxi Service
Welcome To
Shri Nakoda Tours & Travels
Shri Nakoda Tours provides exceptional taxi services in Udaipur, delivering a seamless travel experience. With a commitment to excellence, they offer a comprehensive range of travel solutions from scheduling to completion. Their services ensure utmost comfort, style, and convenience, allowing travelers to explore the beauty of Udaipur hassle-free. Shri Nakoda Tours stands out in the industry for their reliable and well-maintained fleet of vehicles, including cars like Swift, Dzire, Etios, Innova, Crysta, and Fortuner. Whether you're looking for local sightseeing or outstation trips, their professional and local drivers make every journey safe and enjoyable. With a user-friendly booking process and a reputation for providing the best taxi service in Udaipur, Shri Nakoda Tours is the ideal choice for a memorable travel experience in Udaipur
---
About Us
We offer complete solution for travel organization from scheduling
to finishing we do it in our best possible way.

Private Day Tours
We Provide a comfortable and a hassle-free travel experience.
---
Popular Destinations
Rajasthan is a mystical land that presents an array of unforgettable experiences with the traveler and bamboozling.
Why Choose Shri Nakoda Tours & Travels
Book One Way taxi in all over Rajasthan & get Great Best Price.

24*7 Travel Support
We have customer support bench you can rely on.
Clean Vehicle
A Clean Pass is a promise to you from us on sanitization of Cab.
Verified Drivers
Our drivers and staffs are well trained and professional.

Unique Tour Experiences
Shri Nakoda Tours & Travels offers memorable experiences.

Online Bookings
Making a reservation is fast and easy. Book a taxi via our website.
People Love us!
We have over 100 online reviews from actual customers.
Our Taxi Solutions: The Gateway to Effortless Travel
Shri Nakoda Tours Udaipur stands as a beacon, offering a myriad of taxi solutions within Udaipur's embrace to tend to your every voyaging necessity. Whether you traverse solo, accompanied by kin, or accompanied by a fellowship of companions, the perfect taxi in Udaipur awaits you in their repertoire. Let us delve into the array of taxi solutions they extend
Local Commutation: Unveiling the Essence of Udaipur
As you set foot in Udaipur, a fervent desire to explore every alcove and cranny of its charm is kindled within you. The local commutation taxis, at the behest of Shri Nakoda Tours, unfurl themselves as your trusted aides in navigating the city's tapestry with effortless grace. From the illustrious City Palace to the entrancing expanse of Lake Pichola, you are at liberty to traverse the city's allurement at a rhythm of your own choosing. Accompanied by well-informed and affable chauffeurs, you are bestowed with sagacious guides to the opulent annals and heritage enveloping you.
Airport Transfers: Embarkation upon Comfort
The experience of arriving in an unfamiliar city can be akin to a tidal wave of sensations, yet, with the aid of Shri Nakoda Tours' airport transfer services, your sojourn commences with seamless tranquility. Prompt and reliable chauffeurs stand as sentinels, poised at the threshold of the airport, to extend their warm welcome and accompany you to your chosen sanctuary, whether it be a grand hotel, a tranquil resort, or any other nook within Udaipur's embrace.
Sojourns Beyond the City Limits: Unveiling Rajasthan's Troves
Udaipur, the zenith of its splendor, unfurls itself as an impeccable bastion for embarking on expeditions that uncover the wonders of Rajasthan. Shri Nakoda Tours' escapades beyond the city's borders beckon, urging you to set forth on a venture to the proximate realms of Mount Abu, Chittorgarh, Kumbhalgarh, and more. Nestle back in repose as you bear witness to the diverse tapestry of landscapes and the chronicles woven into Rajasthan's intricate fabric.
Excursions of Enchantment: A Odyssey to Enrapture
An escapade to Udaipur stands as an incomplete tale sans the immersion into its iconic vistas. Shri Nakoda Tours, the architects of meticulously plotted excursions, unfold panoramas that encompass the city's paramount allurements. From the opulent chambers of the Lake Palace and Jag Mandir to the tranquil respite of Saheliyon Ki Bari and the placid expanse of Fateh Sagar Lake, each heartbeat within your sightseeing voyage resounds with awe and marvel.
The Udaipur Daytime Expedition: Glimpsing the City of Lakes
A day allocated to exploring Udaipur alongside Shri Nakoda Tours unfurls as a carefully curated pilgrimage into the city's core. This voyage extends a fleeting glance into the captivating city of Udaipur, wherein every nook and corner weaves together tales of sovereignty, ardor, and an ageless charm. Cradled within the enfold of the Aravalli hills and adorned by placid lakes, Udaipur emerges as an enthralling haven that radiates imperial opulence, opulent history, and panoramas of a picturesque nature.
Unearthing Palatial Opulence
The Udaipur day tour charts a course toward the exploration of the resplendent palaces that embody the city's majesty. The City Palace, a bastion that graces the eastern shores of Lake Pichola, stands as a symphony woven from the threads of Rajasthani and Mughal architectural brilliance. The palace's confines transport you through the annals of time to an era dripping with opulence and extravagant abundance. Equally captivating, the Jag Mandir, perched upon an islet in Lake Pichola, emerges as another architectural marvel, leaving you spellbound in its wake.
Lakes of Serenity and Cultural Legacy
Udaipur's allure lies nestled within its placid lakes, and the Udaipur day tour ensures your immersive encounter with their resplendence. The lifelines of Lake Pichola, Fateh Sagar Lake, and Lake Udai Sagar invite you to partake in the gentle cadence of boat sojourns or to bask in the tranquil ambience they bestow. This journey also encompasses a pilgrimage to Shilpgram, a rural haven of artistic and craft endeavors, where the habiliments of traditional artisans unfold before your eyes, eliciting admiration for their adroitness.
FAQs
1How much does a taxi cost in Udaipur?
you can find taxi services in Udaipur offered by Shri Nakoda Tours, which is known to be one of the best providers in the area. Shri Nakoda Tours offers taxi services in Udaipur, catering to various travel needs such as one-way trips, round trips, and multi-way options, including airport transfers and day rentals. They are praised for their polite and prompt drivers, as well as the availability of beautiful cars for a delightful road trip experience. For a trip between Nakoda and Udaipur, travelers have the option to choose from cabs, flights, buses, or trains. If opting for a taxi, Shri Nakoda Tours offers comfortable and affordable Sedans, Compacts, and SUVs to cater to different travel preferences.
2Is Ola or Uber available in Udaipur?
It's recommended to check with local sources or official websites of Ola and Uber for the most up-to-date information regarding their availability in Udaipur. Regarding Shri Nakoda Tours, they are renowned as one of the best providers of taxi services in Udaipur. Unfortunately, the provided URL did not contain any text content, so I cannot provide a detailed description of their services. To learn more about Shri Nakoda Tours and their offerings, it's advisable to visit their official website or contact them directly for comprehensive information on their taxi services in Udaipur.
3How can I travel around Udaipur?
To travel around Udaipur, there are several transportation options available. Udaipur, also known as the "City of Lakes," is a popular tourist destination, and getting around is relatively convenient. Taxis and Cab Services: Taxis are readily available in Udaipur, and you can easily book them for local sightseeing or to travel to nearby attractions. Auto-rickshaws: Auto-rickshaws are a common mode of transport for short distances within the city. They are affordable and a fun way to explore the streets of Udaipur. Buses: Udaipur has a well-developed public bus system that connects various parts of the city. It's an economical option for travel. Rental Bikes and Scooters: Renting bikes or scooters is another popular choice for tourists who want to explore the city at their own pace. Walking: Udaipur's old city is best explored on foot, as it allows you to soak in the charm of the narrow lanes, markets, and historical landmarks. For a comfortable and reliable taxi service in Udaipur, one of the best providers is Shri Nakoda Tours. Although the provided URL does not contain specific information about their services, they are reputed for offering taxi services with polite drivers and beautiful cars. To learn more about Shri Nakoda Tours and their offerings, you may visit their official website or contact them directly for comprehensive information on their taxi services in Udaipur.
4Is 2 days enough for Udaipur?
Yes, 2 days can be sufficient to explore the major highlights of Udaipur. While Udaipur has many attractions to offer, you can cover the key landmarks and immerse yourself in the city's rich cultural heritage in this timeframe. Some must-visit places in Udaipur include the City Palace, Lake Pichola, Jag Mandir, Jagdish Temple, Saheliyon Ki Bari, and the Bagore Ki Haveli. You can also take a boat ride on Lake Pichola to enjoy the picturesque views of the surrounding palaces and architecture. To make the most of your trip, it's advisable to plan your itinerary wisely and consider hiring a reliable taxi service like Shri Nakoda Tours. They are known for their efficient and comfortable taxi services in Udaipur, ensuring a smooth and enjoyable travel experience. Although the provided URL lacks specific content, you can visit their official website or contact them directly for more information on their taxi services and to make reservations.
5Which month is best for Udaipur?
The best time to visit Udaipur is during the winter months, specifically from October to March. This period offers pleasant weather with mild days and cool evenings, making it ideal for exploring the city's attractions comfortably. During this time, you can enjoy various outdoor activities, boat rides on the lakes, and sightseeing without the scorching heat of summer or the heavy rainfall of the monsoon season. As for Shri Nakoda Tours, they are renowned as one of the best providers of taxi services in Udaipur. While the provided URL does not contain specific content, you can visit their official website or contact them directly to avail their reliable and comfortable taxi services. Their polite drivers and beautiful cars ensure a delightful travel experience while exploring the enchanting city of Udaipur.