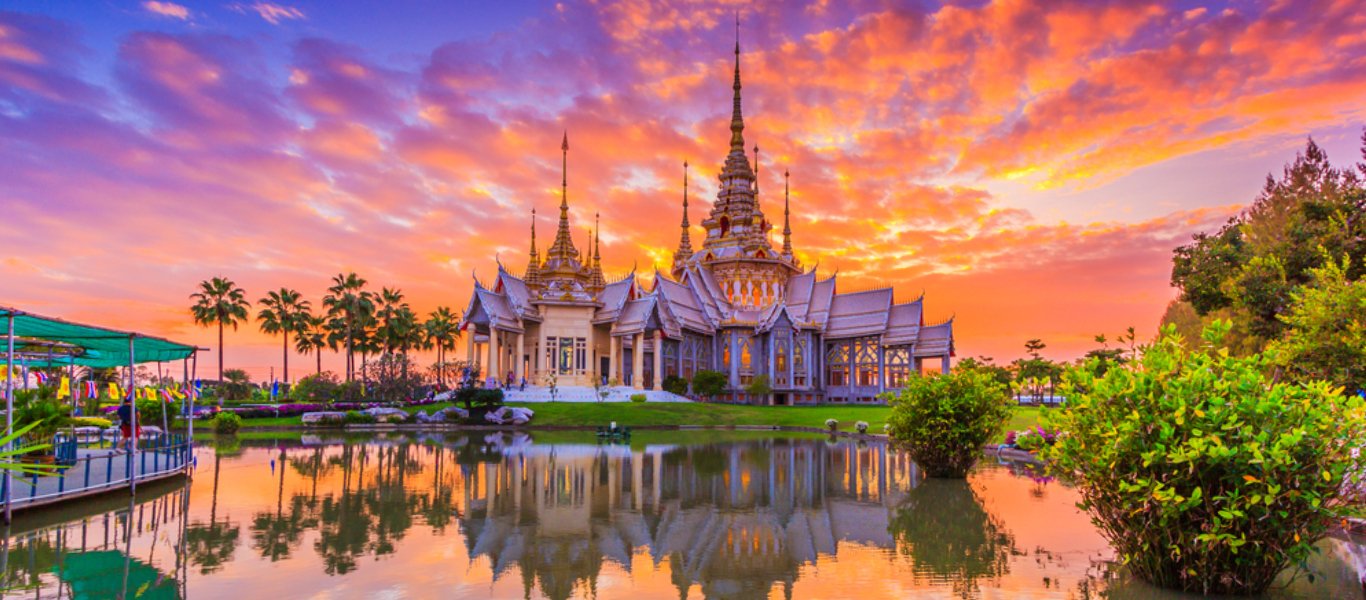 Explore Thailand Tour
Welcome to the captivating kingdom of Thailand! This 9-night/10-day tour is designed to immerse you in the vibrant culture, stunning landscapes, and warm hospitality that Thailand is renowned for. From the bustling streets of Bangkok to the tranquil beaches of Phuket, get ready to embark on a journey filled with unforgettable experiences.
Throughout your journey, savor the delectable flavors of Thai cuisine, from fragrant street food to fine dining experiences. Immerse yourself in the colorful local markets, where you can find unique handicrafts, textiles, and souvenirs.
As your tour comes to an end, take with you memories of breathtaking landscapes, encounters with friendly locals, and a deep appreciation for the rich cultural tapestry of Thailand.
Whether you're drawn to the bustling cities, tranquil temples, pristine beaches, or mouthwatering cuisine, this Thailand tour promises an unforgettable adventure that will leave you enchanted with the beauty and diversity of this remarkable destination. Get ready to embark on a journey of a lifetime in the Land of Smiles!
DAY 1
Arrival in Bangkok
Arrive at Suvarnabhumi Airport in Bangkok.
Transfer to your hotel and check-in.
Spend the rest of the day at your leisure, relaxing and exploring the vibrant city of Bangkok.
DAY 2
Bangkok City Tour
Start your day with a visit to the Grand Palace, a majestic complex that houses the revered Wat Phra Kaew (Temple of the Emerald Buddha).
Explore the nearby Wat Pho, known for its gigantic reclining Buddha statue.
Take a boat ride along the Chao Phraya River, passing by historic landmarks and observing the local way of life
.
In the evening, explore the bustling street markets of Bangkok, such as Chinatown or the famous Khao San Road.
DAY 3
Ayutthaya Day Trip
Embark on a day trip to Ayutthaya, the ancient capital of Thailand and a UNESCO World Heritage Site.
Explore the impressive ruins of temples and palaces, learning about the rich history and culture of the Ayutthaya Kingdom.
Visit the iconic Wat Mahathat, known for the Buddha head entwined in the roots of a tree.
Enjoy a leisurely boat ride along the Chao Phraya River back to Bangkok.
DAY 4
Flight to Chiang Mai and Temples Tour
Fly to Chiang Mai, a city known for its rich Lanna culture and beautiful temples.
Visit the sacred Wat Phra That Doi Suthep, located on a hilltop with panoramic views of the city.
Explore the ancient Wat Chedi Luang and Wat Phra Singh, renowned for their intricate architecture and religious significance.
In the evening, visit the vibrant Night Bazaar, where you can shop for local handicrafts, taste delicious street food, and enjoy traditional performances.
DAY 5
Elephant Sanctuary and Hill Tribe Experience
Spend a day at an ethical elephant sanctuary, where you can interact with these gentle creatures in a responsible and sustainable manner. Feed, bathe, and learn about their conservation.
Visit a traditional hill tribe village, experiencing the unique culture and way of life of the local community.
Engage in cultural activities, such as learning traditional crafts or trying local cuisine.
DAY 6
Flight to Phuket and Phang Nga Bay
Fly to Phuket, Thailand's largest island and a popular beach destination.
Embark on a boat tour of Phang Nga Bay, known for its limestone cliffs, emerald waters, and stunning landscapes.
Visit James Bond Island, made famous by the movie "The Man with the Golden Gun."
Explore the hidden lagoons and sea caves by kayak or enjoy swimming and snorkeling in the crystal-clear waters.
DAY 7
Phi Phi Islands
Take a full-day excursion to the Phi Phi Islands, a paradise of white sandy beaches and turquoise waters.
Visit Maya Bay, where the movie "The Beach" was filmed, and enjoy swimming, snorkeling, and sunbathing.
Discover the colorful marine life while snorkeling in the clear waters surrounding the islands.
Relax on the beaches or explore the vibrant local markets.
DAY 8
Phuket Free Day
.Enjoy a free day in Phuket to relax on the beach, take part in water sports activities, or explore the island at your own pace.
Visit Old Phuket Town with its charming Sino-Portuguese architecture, boutique shops, andcafés.
Indulge in a traditional Thai massage or spa treatment for a blissful relaxation experience.
DAY 9
Bangkok Return and Floating Market
Fly back to Bangkok.
Explore the famous Damnoen Saduak Floating Market, where vendors sell their goods from traditional wooden boats. Experience the vibrant atmosphere and try local delicacies.
In the afternoon, enjoy some last-minute shopping or visit the modern shopping malls in Bangkok.
DAY 10
Departure
After breakfast, check out from your hotel.
Depending on your flight time, you may have some free time for last-minute shopping or sightseeing.
Transfer to Suvarnabhumi Airport for your departure, taking with you wonderful memories of your Thailand adventure.