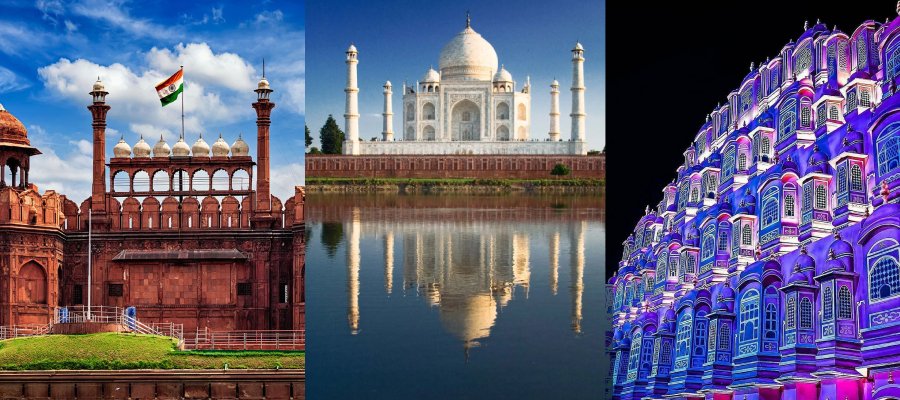 Explore Our Golden Triangle Tour
Embark on a mesmerizing journey through India's Golden Triangle, a popular tourist circuit encompassing the cities of Delhi, Agra, and Jaipur. This 5 Nights / 6 Days tour takes you on a captivating adventure, exploring the rich heritage, architectural wonders, and cultural treasures of Northern India.
Throughout the Golden Triangle Tour, you'll witness the vibrant colors, taste the flavorsome cuisine, and experience the warm hospitality that defines this region of India. From the bustling markets filled with handicrafts and textiles to the soul-stirring history of magnificent forts and palaces, the Golden Triangle offers an unforgettable journey into the heart of India's rich cultural heritage.
DAY 1
Arrival in Delhi
Arrive in Delhi, the vibrant capital city of India, known for its bustling streets, historical landmarks, and diverse culture. Spend the day exploring the city's attractions, such as the Red Fort, Jama Masjid, India Gate, and the bustling markets of Old Delhi.
DAY 2
Delhi Sightseeing
Embark on a full day of sightseeing in Delhi. Visit the Lotus Temple, Humayun's Tomb, and Qutub Minar, all showcasing magnificent architecture and historical significance. Explore the narrow lanes of Chandni Chowk and experience the vibrant street life and delicious street food.
DAY 3
Delhi to Agra
Travel from Delhi to Agra, home to the world-famous Taj Mahal. Explore the Agra Fort, an impressive Mughal architectural marvel, and discover its palaces, courtyards, and gardens. Witness the mesmerizing sunset view of the Taj Mahal from Mehtab Bagh.
DAY 4
Agra to Jaipur via Fatehpur Sikri
Begin the day with a visit to the majestic Taj Mahal, one of the Seven Wonders of the World. Marvel at its pristine white-marble beauty and learn about the eternal love story behind its creation. Proceed to Jaipur, stopping at Fatehpur Sikri, a UNESCO World Heritage Site known for its well-preserved Mughal architecture.
DAY 5
Jaipur Sightseeing
Explore the Pink City of Jaipur, starting with a visit to the magnificent Amber Fort. Enjoy an elephant ride or a Jeep ride up the fort and discover its stunning palaces and intricate artwork. Visit the City Palace, Jantar Mantar, Hawa Mahal, and explore the local markets for traditional handicrafts, textiles, and jewelry.
DAY 6
Jaipur to Delhi Departure
Depart from Jaipur and return to Delhi. If time permits, visit the beautiful Birla Mandir temple. Conclude the tour with wonderful memories of the Golden Triangle as you transfer to the airport for your onward journey.
DAY 7
Departure
After breakfast, check out from the hotel.
Depending on your flight time, you may have some free time for shopping or exploring local markets
The Golden Triangle Tour provides an incredible opportunity to witness the historical treasures, architectural wonders, and vibrant culture of Delhi, Agra, and Jaipur. From the majestic Taj Mahal to the bustling markets, each city has its own unique charm, offering a truly unforgettable experience of India's rich heritage.